Celebrating You 2020
Celebrating You, our community awards event, is about celebrating and recognising all those who have gone above and beyond in helping to accelerate a cure for brain tumours.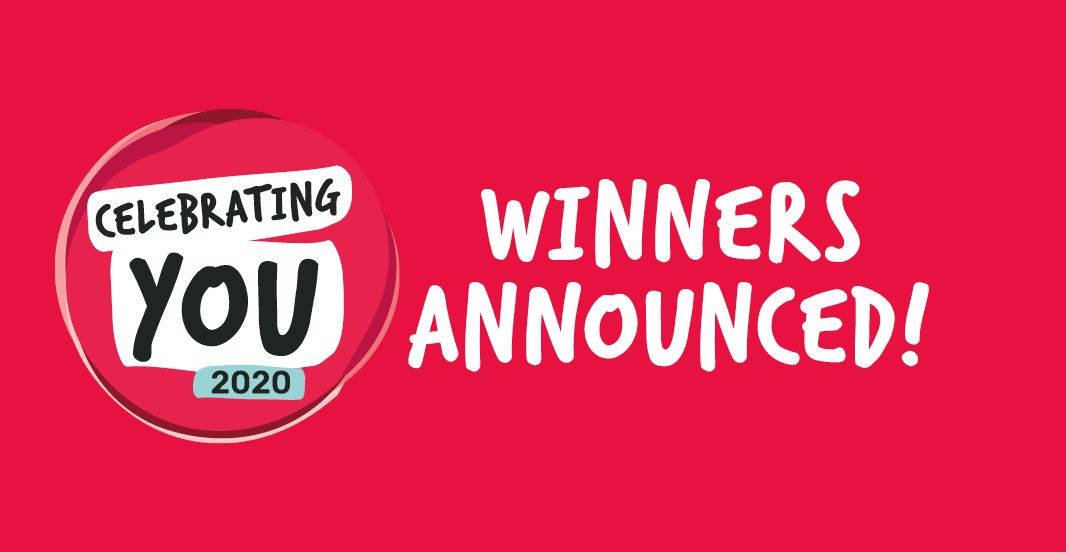 An update on the awards
Despite the difficulties we've all been through this year, we continue to be in awe of our inspiring community and the amazing support they've given us throughout these challenging times.
We might not be able to meet up and celebrate with our community in person for Celebrating You 2020 – but that doesn't mean we can't still celebrate and recognise their tireless efforts and dedication to our shared cause!
The winners and shortlisters for each award, whom the judges had a really tough time deciding between, have now been chosen – and we're excited to share these with you below. We'd like to say a heartfelt thank you to them all for everything they've done – and continue to do – to propel us towards a cure. Because we simply couldn't do what we do without our community's incredible passion and drive.
Winners and shortlisters
Click on the category below to read more about the winner.
---
The Award for Special Recognition
Winner: Sacha Langton-Gilks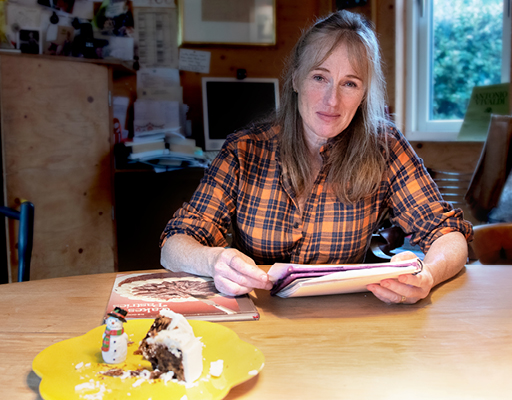 Since losing her son DD to a medulloblastoma in 2012, Sacha has invested incredible energy and dedication into raising awareness of the signs and symptoms of a brain tumour in children through our awareness campaign, HeadSmart, and acting as a HeadSmart champion.
She has given countless talks, distributed hundreds of HeadSmart symptoms cards and tirelessly lobbied MPs. She has also shared her story extensively in the national press to help us raise awareness of brain tumours.
Shortlisted
Clare Gregory – Clare has shared her daughter, Olivia's story to raise awareness of brain donation, which has helped shatter this taboo and encourage health professionals to broach the option of brain donation with families.
Jeanette Bolt – Jeanette has raised vital awareness of brain tumours and taken on many challenges to raise money for The Alex Bolt Fund, in memory of her son, Alex.
---
The Viv McBeth Award for Fundraiser of the Year
Winner: Sally Bramall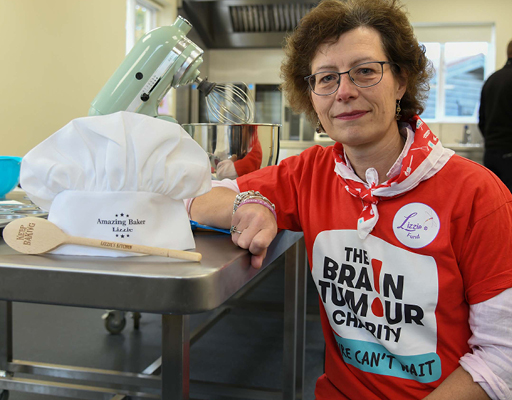 Sally set up Lizzie's Fund in memory of her daughter, Lizzie, who died from a brain tumour in November 2018. The Fund has raised over £300,000 to date.
Sally and Lizzie organised some amazing events and even published a recipe book, Keep Baking. This award recognises how determined and courageous Sally is in fundraising for vital research and raising awareness in Lizzie's name.
Shortlisted
Pete Williams – Pete's daughter passed away from a DIPG at just seven years old. He rode her little pink bike from Bristol Children's Hospital to Land's End and has raised over £55,000 in memory of his daughter, featuring in national press coverage along the way.
Emily Oliver – Emily passed away from a brain tumour at the age of 21, 17 months after being diagnosed. During these months, Emily was adamant that something positive would come from her situation and was determined to raise money for the cause.
---
Young Fundraiser of the Year
Winner: Nick Parker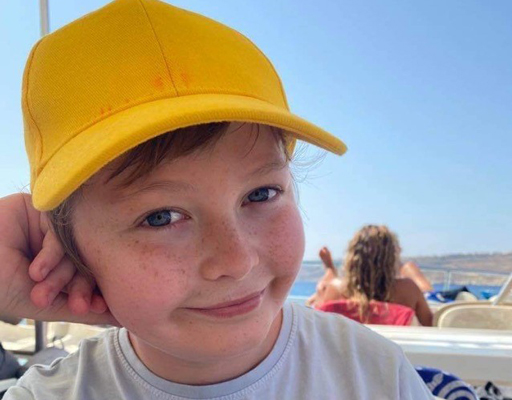 Nick's mum, Michele, was diagnosed with a brain tumour in 2015. Nick, who has juvenile myasthenia leading to poor muscle development and fatigue, is a real superstar who has fundraised with determination, resilience and selflessness.
He not only took on 10km at The Twilight Walk Warwick and raised an amazing amount of money doing so, but also created, organised and compered a talent show, 'Paddox's Got Talent', at his primary school.
Shortlisted
Chloe Russell – Chloe was diagnosed with a low grade brain stem glioma in 2009, since her diagnosis she has arranged many wonderful events to raise money for The Brain Tumour Charity, from several sponsored head shaves to her own charity ball.
Ollie Shears – Ollie has taken part in and arranged many amazing challenges, including cycling from Reading to Cardiff and hosting a duathlon. He has attracted lots of local press coverage, in the papers, on the radio and the evening news, which has helped raise awareness.
---
Volunteer of the Year
Winner: Oliver Highway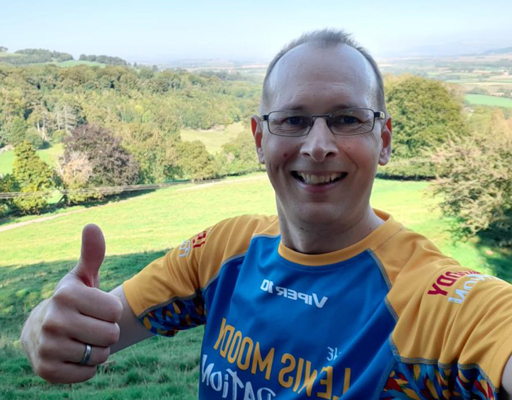 Oliver was diagnosed with a glioblastoma brain tumour in 2012 and is now eight years into his diagnosis. Despite this, the list of all he has taken on and achieved for The Charity is seemingly endless.
From bucket collections at events to being the face of our Christmas Appeal; from sharing his story with the press to walking The Twilight Walk Warwick on numerous occasions; and from sharing his experiences with our team to helping us develop BRIAN – Oliver is a wonderful volunteer and ambassador.
Shortlisted
Peter Buckle – Peter has volunteered in many different ways for The Charity. From stewarding at The Twilight Walk to being a Community Ambassador and speaking at the Houses of Parliament. Peter is passionate about raising awareness of brain tumours and the impact they can have.
Laura LH – Laura has shared her story and spoken at many different events in her previous role as a Young Ambassador for The Charity. Now, keen to share her experience with other young adults, Laura volunteers as a mentor for our current group of Young Ambassadors.
---
Influencer of the Year
Winner: Laura Nuttall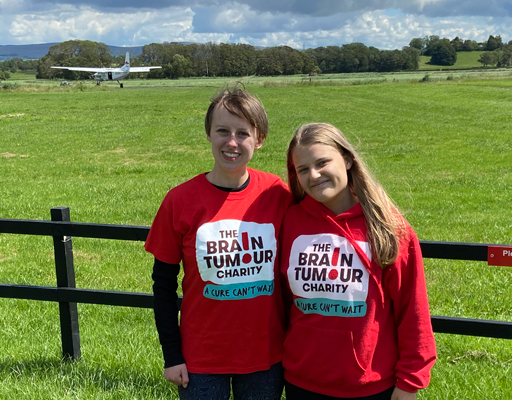 Laura (left) was diagnosed with a glioblastoma in late 2018 following persistent headaches. We are in awe of the amazing things she has done for The Charity and the huge amount of awareness she has raised while going through such challenging times with her family.
On top of handing out HeadSmart cards, building a huge social media following, speaking honestly on radio and TV multiple times and being featured in many publications, Laura has also raised funds for us and supported us at events. She is a true inspiration.
Shortlisted
Tanya Turnbull – Tanya has taken every opportunity she can to raise awareness of brain tumour symptoms and the lack of funding for research into brain tumours. Her fund, set up in memory of her son Sam, has raised an astonishing amount for paediatric research.
Iain Mclean – Iain has been campaigning and raising awareness in Scotland, to help reduce diagnosis times in young adults and for better patient care following a diagnosis, in memory of his son, Duncan.
---
Change Maker
Winner: Jess Mills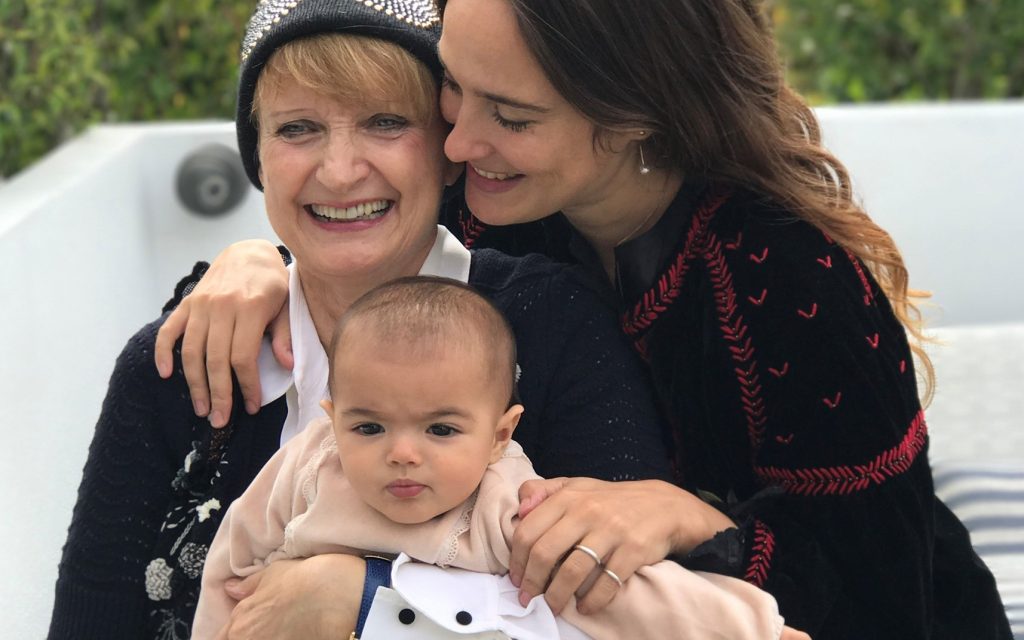 Jess Mills, (right), daughter of the late Baroness Tessa Jowell, is driving change for all those diagnosed with a brain tumour. She tirelessly campaigns to improve the experiences of patients with untreatable cancer and drives change through interviewing and meeting with politicians, civil servants, NHS representatives and clinicians.
We're so grateful to Jess for her unwavering commitment to our community and to accelerating progress.
Shortlisted
Katie Bushby – Katie has used her expertise to support the brain tumour community, contributing invaluable advice and knowledge to the development of BRIAN and to the Tessa Jowell Brain Cancer Mission.
Susie McKeever – Susie has been instrumental in helping gain access to data for BRIAN, in turn saving The Charity a substantial amount of money. She's also a keen fundraiser and has raised an incredible amount for research into brain tumours.
---
Partnership of the Year
Winner: Everest in the Alps Team 2019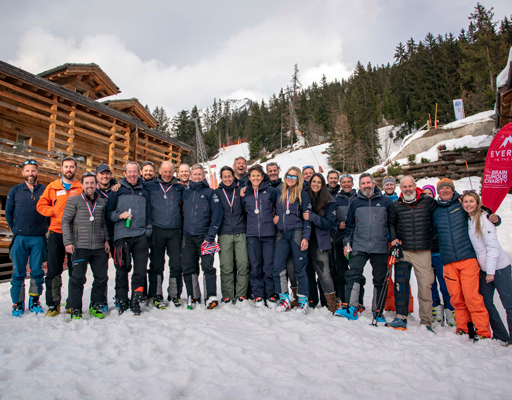 The 2019 team who took on the Everest in the Alps challenge were so inspiring in their efforts to raise funds and awareness for The Charity, and we can only imagine how tough the challenge must have been.
The £400,000+ they were able to raise for The Everest Centre was truly amazing and the difference it will make to research into and treatment of low grade paediatric brain tumours is remarkable.
Shortlisted
CDM – CDM worked with The Charity to create an outstanding Snapchat campaign, which was instrumental in enabling many teenagers to recognise the signs and symptoms of a brain tumour.
Underbelly – Underbelly have provided pro-bono advertising, donated venues for charity events and provided volunteering opportunities at many of their events, which have also helped raise a huge amount of money for The Charity.
---
The Lewis Moody Achievement Award
Winner: Alan Chambers and Wayne Hoyle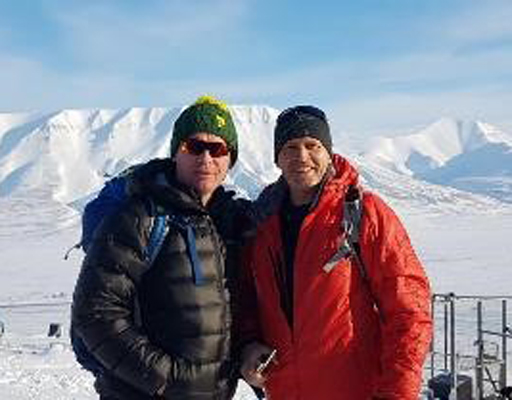 Alan and Wayne have played a huge part in enabling The Lewis Moody Foundation to develop a series of successful fundraising challenges over the past five years. They've donated their time to organise and lead challenges like Headnorth 2015, Headeast 2016, Headwest 2017, Headsouth 2020 and the Mega-Tri 2019, as well as secure participants.
Without their knowledge, experience, dedication and support, The Foundation would never have been able to put on the amazing challenges they have and in turn raise the astonishing amount of money they have.
Shortlisted
Y.CO – Y.CO have supported The Lewis Moody Foundation from its inception through to present day. They have helped The Foundation hold numerous challenges, which have brought new supporters to the Foundation, as well as raise money.
Chris Martin (BOSE) – Chris has shown incredible support for The Foundation and his passion has led to the huge success of the Mega-Tri Challenges and The Foundation Ball, thanks to his generous donation of auction prizes.
---
Research Rising Star

Winner: Dr Floris Barthel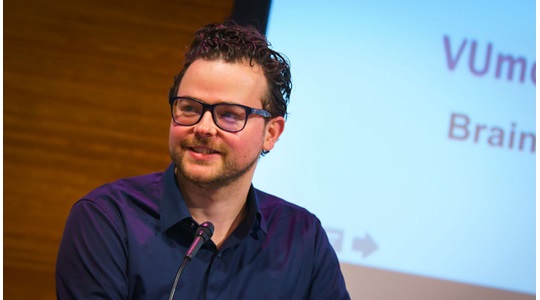 Dr Barthel is our Research Rising Star in recognition of his outstanding achievements, particularly his dedication to driving forward the Glioma Longitudinal Analysis Consortium (GLASS) project, and his demonstrated potential to develop a high-level career in scientific research.
He has shown impressive motivation to transition his career from medicine to research, success in rapidly mastering the skills necessary to perform complex analyses and a demonstrated ability to lead and execute a project.
Shortlisted
Dr Thomas Booth – Dr Thomas Booth conducted research into brain tumour treatment responses during his PhD, and is continuing his research on machine learning and metabolic imaging.
Dr Florent Mouliere – Dr Florent Mouliere had conducted pioneering research into characterising the structure and biology of extracellular DNA and in developing liquid biopsy techniques.
---
The Research Impact Award

Winner: Dr Farshad Nassiri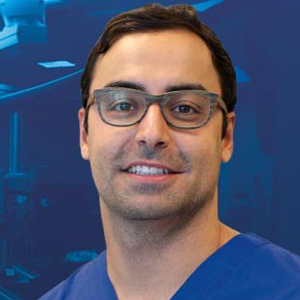 The impact of Dr Nassiri's research into clinically aggressive meningiomas has been outstanding, in particular his development of a model that can predict five-year recurrence risk. The realisation of personalised recurrence risk predictions through this model offers a significant advance in patient care.
We're so inspired by Dr Nassiri's continued dedication to making his model publicly available and readily accessible.
Shortlisted
Dr Kevin Faust – Dr Kevin Faust has undertaken research into artificial intelligence and the application of this in improving brain tumour diagnostics.
Dr Till Milde – Dr Till Milde's research focuses on paediatric low grade gliomas, as part of the EVEREST Consortium, and through his work he's established the first long-term culture model of pilocytic astrocytoma.
---
Professional Excellence Award

Winner: Hannah Lowe (Neuro-oncology Clinical Nurse Specialist at Barts Health NHS Trust)
Hannah is dedicated to striving for the highest standards of care for all her patients and is an outstanding team member who looks to educate the Barts Health NHS Trust team on the latest research into brain tumours. We're so grateful to her for also raising funds for The Charity and awareness of the disease.
Shortlisted
Anna Crofton (Specialist Nurse Practitioner and Lead Oncology Specialist Nurse) – Anna leads her team and ensures that those admitted to the hospital receive the best possible support. Her team have created a ' coping better together' support course for those affected by a brain tumour, which consistently receives positive feedback.
Julie Collins (Neuro-oncology Clinical Nurse Specialist) – Julie is enthusiastic, passionate and professional in caring for and doing the best for all her patients at the Edinburgh Centre for Neuro-Oncology at the Western General Hospital. Julie works closely with The Charity, and shares The Charity's information and resources with patients.
---
Rising Star within a Neuro Team

Winner: Laura Hallett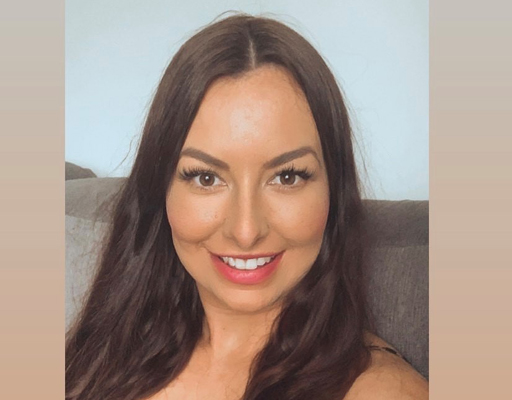 Laura is dedicated to developing and improving the neuro-oncology service at The James Cook University Hospital and in turn providing the best care possible to patients and their families.
The Information and Support education days for brain tumour patients, which she was instrumental in developing, were a huge success and extremely beneficial to those patients and families who attended.
Shortlisted
Laura Mullens (King's College Hospital) – Laura is passionate in ensuring that her patients receive the best holistic care, and goes above and beyond, constantly thinking of ways to improve the service at King's College Hospital. Laura has also set up support groups, which offer emotional support to patients and their carers.
Victoria Hurwitz (King's College Hospital) – Victoria ensures her patients get the best care at King's College Hospital and has supported in raising awareness of The Charity and signposts patients to The Charity's information. Victoria also runs a monthly health and wellbeing event for patients.
---
Neuro Team of the Year
Winner: King's Variety Children's Hospital
The Kings Variety Children's Hospital are a wonderful team of dedicated specialists who work tirelessly to support the needs of children and their families following a brain tumour diagnosis. They truly go above and beyond in their work to help transform the lives of the children on their neuro ward.
Shortlisted
The Neuro-Oncology Team (James Cook University Hospital) – The hospital has set up a 'One Stop Shop' clinic that they use to provide assessments and support for people with low grade and benign brain tumours.
The Neuro-Oncology Clinical Nurse Specialists (Queens Medical Centre) – The team have worked closely with The Charity to help improve the information and support that they offer to their patients.
In this section
Recommended reading